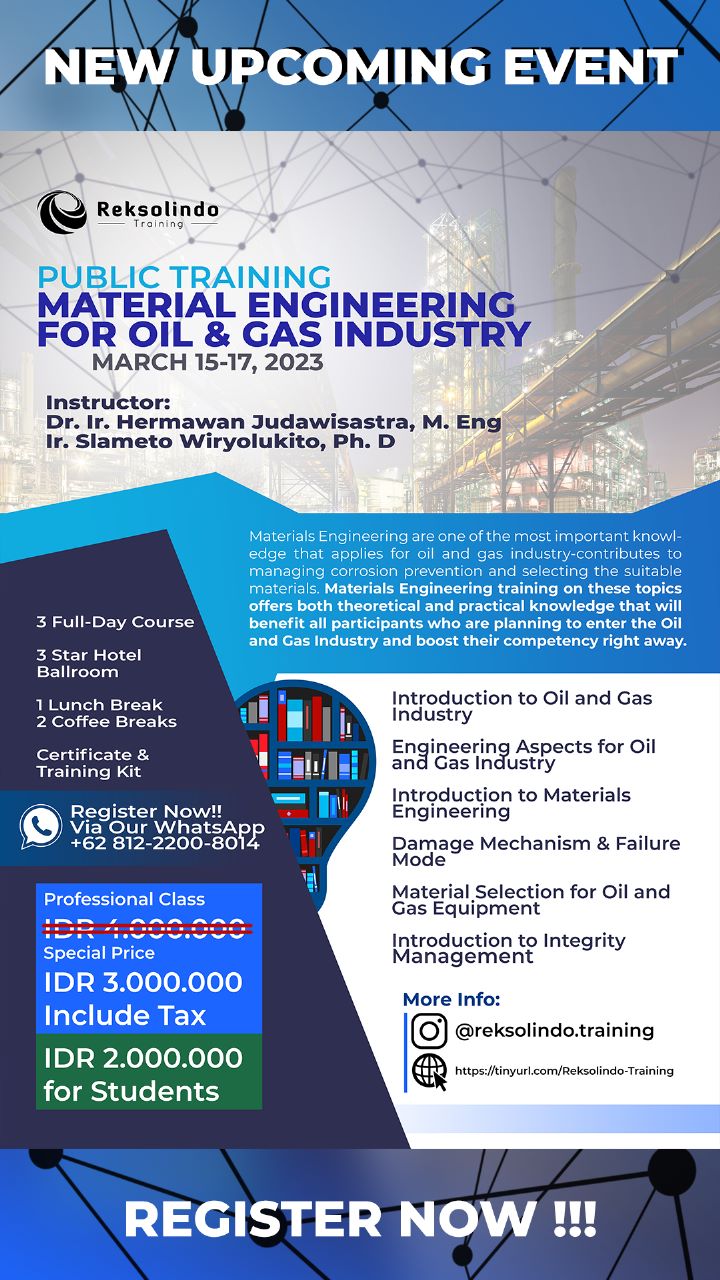 Material Engineering for Oil & Gas Industry
Available 3 full-day course - Offline
Dr. Ir. Hermawan Judawisastra, M.Eng.
Ir. Slameto Wiryolukito, Ph.D
Rp. 3.000.000,- (For Professionals)
Rp. 2.000.000,- (For Students)
Materials Engineering are one of the top required knowledge that will help Oil and Gas Industry to deliver their products through all equipment and lines at the safest operational environment. One of key activities for Material Engineers involved in Oil and Gas Industry are managing corrosion prevention and selecting the suitable materials by considering all process parameters. Assets Integrity will contribute on maintaining equipment by applying methodology such as Risk Based Inspection, Fitness for Service and Remaining Life Assessment.
Knowledge of international standard for materials specifications such as ASME, API and ASTM will give guidance on material selection related with process and product requirements.
Therefore, materials engineering training on these topics offers both theoretical and practical knowledge that will give advantage to all participants who is planning to enter Oil and Gas Industry and boost their competency right away.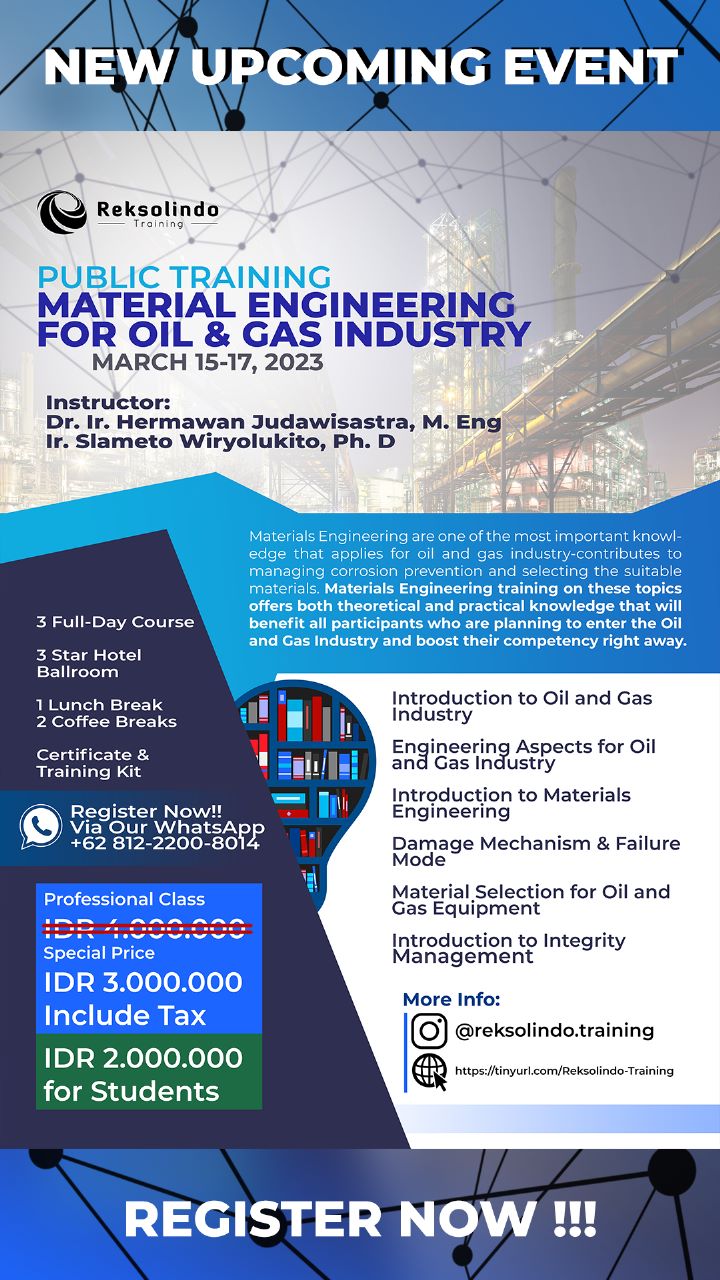 Understand flow process in Oil and Gas Industry.
Acquire knowledge of Materials engineering in Oil and Gas industry
Mastery the theoretical and practical of Material Selection, Corrosion control, Damage Mechanism, Failure Analysis, and Risk Mitigation-including Preventive Maintenance and Inspections in Oil and Gas industry.
Fresh Graduates or Final Year students from any Engineering & Science background who has career aspirations in Oil and Gas Industry
Professionals who is seeking Materials Engineering knowledge for Oil and Gas Industry
Newly hired employee in Oil and Gas Industry
Dr. Ir. Hermawan Judawisastra, M.Eng.

Hermawan Judawisastra is Associate Professor from Materials Engineering Department and vice dean for mechanical and aerospace engineering faculty, Bandung Institute of Technology, Indonesia. He was completed postgraduate degree from Material Engineering Department of Metallurgy and Material Engineering, Katholieke Universiteit Leuven, Belgium. Hermawan also contribute as Principal Engineer & Specialist at Yayasan LAPI and PT. LAPI ITB with more than 15 years' experience and 400+ engineering project concerning in mechanical stress analysis, failure analysis, risk-based inspection, polymer and composite on industrial application.
Ir. Slameto Wiryolukito, Ph.D
Slameto Wiryolukito is PhD holder form Material Engineering Department, Illinois Institute of Technology (IIT), Chicago, USA. He was an Emeritus Associate Professor from Materials Engineering Department, Bandung Institute of Technology (ITB), Bandung, Indonesia. Slameto is active member of American Society of Metals (ASM), Indonesian Association of Corrosion (INDOCOR), and National Association Corrosion Engineer (NACE). Currently Slameto become engineering expert in PT Rekayasa Solverindo with more than 30 years' experience in industrial sector including oil and gas industry. He has been accomplished 450+ engineering project in international and national company.
Fill in the Registration Form: